Fourth Grade Teacher
Soccer Coach
Junior Robotics Coach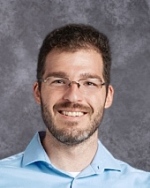 Credentials:
I have earned my Teaching Certificate from the state of Florida. I have also finished the Master's of Elementary Education degree program at UNF where I also earned a Bachelor of Arts in Child Psychology and another in Philosophy. While there I was a member and Education Committee leader for the Catholic Ospreys and lead/volunteered for multiple retreats for the club.
Experiences:
In high school I found my love for the Catholic Faith and have been involved in community service work, setting up and helping with retreats, and several mission trips (both national and international) over the years. This love for service work and giving of self has lead me through many different community service programs and internships in college that had me working with local academic resource centers in Jacksonville, Florida and up in Beaufort, South Carolina. This love for service and teacher young minds has lead me to Guardian Catholic School.
Personal:
While I grew up in Tampa I have called Jacksonville my home for the past nine years and am still learning new things about the city every year. I am lover of literature and can be found usually at home or a local coffee shop lost in a good book in my free time. If I'm not reading then I am either rock climbing at one of the local gyms or am heading to the beach with friends, when the weather is warm.

Mission Statement
Our mission is to help each student attain their potential through high quality Catholic education in a Christ-centered environment that inspires each of us to think, learn, achieve, pray and serve our communities.