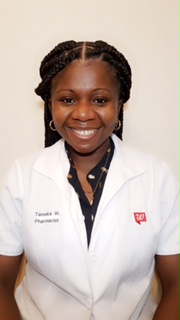 Tameka (Williams) Ochieng
Doctor of Pharmacy
2004 Graduate
Dr. Tameka Ochieng is currently a community pharmacist at Walgreen's Pharmacy in Southfield, MI. She intends to branch out in her field specializing in sterile pharmaceutical compounding and women's health.

Dr. Ochieng said she's grateful every single day for her educational foundation: "Attending a Guardian Catholic School from 1st to 8th grade taught me the values of faith in God, hard work,

perseverance,

taking pride in everything I do,

and striving for excellence.

Today, as a licensed pharmacist in multiple states, I use those same values on a day to day basis. I will carry them with me throughout my career and lifetime."
From Guardian Catholic Tameka went on to Bishop John J. Snyder High School graduating in 2008 with honors. She furthered her education at Florida Agricultural and Mechanical University in Tallahassee, Florida where she earned her doctorate in pharmacy.

Mission Statement
Our mission is to help each student attain their potential through high quality Catholic education in a Christ-centered environment that inspires each of us to think, learn, achieve, pray and serve our communities.