Experience the Guardian Difference!
Call 904-765-6522 for more information
Guardian Catholic School does not discriminate on the basis of religion, race, color, sex, or country of national origin.

"I was the first in my family to go to college, graduate and then go on to law school. I think the main difference between my education and my family's before me was the support I received and the level of focus."
— BRANDON CAMPBELL, J.D.
GUARDIAN CATHOLIC SCHOOLS GRADUATE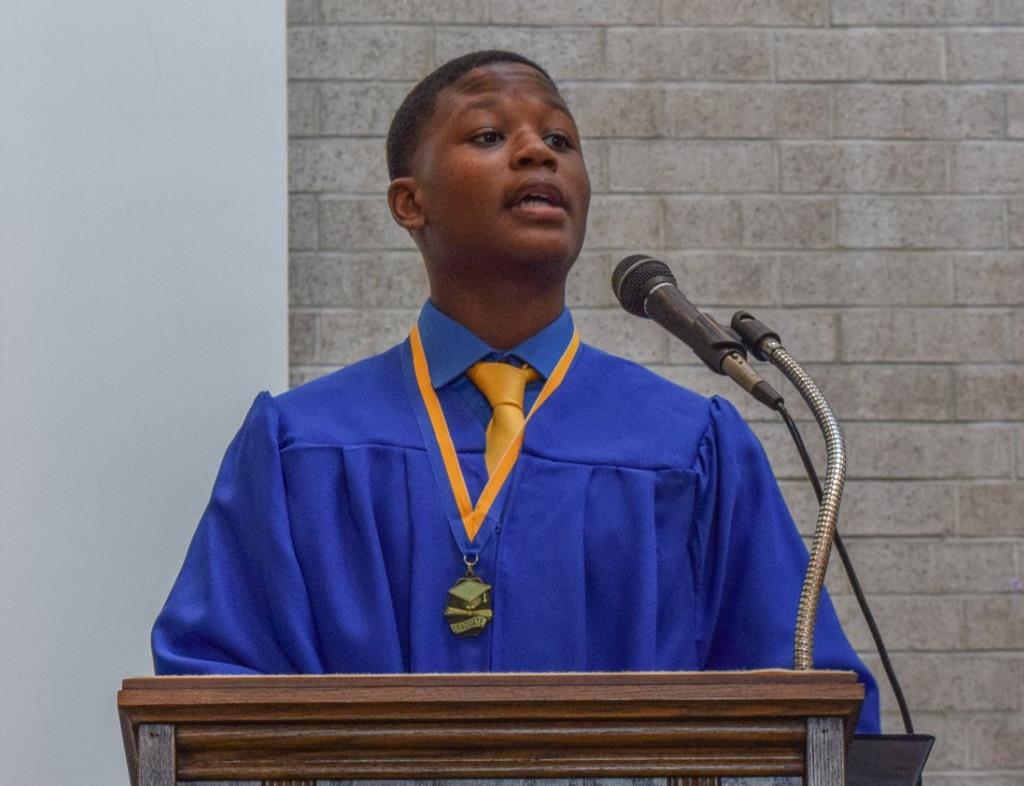 Breeland Madison, 2019 Guardian Catholic graduate, is now a freshman at The Bolles School.
What should I do first?
Complete an Application packet (click on gold field above).
Meet with the school principal to determine your child's admission to the school. When your completed application has been received and reviewed, you will receive a call or an email inviting you to schedule a parent interview and a student screening. Family interviews and student screenings typically begin in February.
Bring your child and these documents to the interview and screening appointment:

Child's birth certificate
Child's Social Security Card
School Entry Health Form (DH3040)
Current Immunization Form (DH 680) that is not expired. Parents of young children should check carefully for an expiration date on the form; it must be current.
Students entering 7th grade must have an updated Immunization Form (DH 680) that includes 1TD, 2 MMRs, 3 Hepatitis B.
Most recent Report Card or Progress Report
Final Report Card from prior year that shows promotion data.
Most recent Standardized Test Scores (if applicable)
Success By 6 (PK3 or PK4)or VPK Certificate (PK4)
Scholarship award letter or proof of application to one of these scholarship funding groups: Step Up for Students, Family Empowerment Scholarship, AAA.

Pay the $25 per child application fee in the school office on the day of your interview and screening.
Apply for or renew a scholarship for each of your children. Click here Financial Assistance Information to learn about scholarships: Success By 6, VPK, Step Up for Students, Family Empowerment Scholarship, AAA. If your child is not eligible for any of the listed scholarships, then you can apply for a Guardian Catholic Schools Tuition Scholarship through FACTS Grant & Aid. Apply for a scholarship as soon as possible. Many schools accept some of these scholarships; so even if your final choice is not Guardian Catholic, you will benefit from applying.
What do I do after the school notifies me that my child is accepted for admissions?
Complete an Enrollment Packet.

You will receive an email with detailed directions for enrollment.

Pay your family registration fee. The registration fee is $260 per family. This fee is due at the time of registration and is non-refundable. Payment of the registration fee secures your children's place on the roster.

Set up a FACTS Payment Plan. Families are required to make school payments through FACTS Management Company. You will set up your account when you complete your Enrollment Packet.
Apply for School Readiness funds from the Early Learning Coalition if you have young children who will stay for Extended Day. Parents of PK3 and PK4 students can apply these funds to charges for the PK Wraparound services provided by the school from 11:30-3:00 pm on school days.

Mission Statement
Our mission is to help each student attain their potential through high quality Catholic education in a Christ-centered environment that inspires each of us to think, learn, achieve, pray and serve our communities.