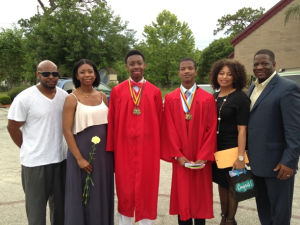 Each year the Guardian Catholic School community looks forward to the naming of the Townsend Scholars. This is a mark of distinction given to two academically high achieving eighth graders. The Townsend Scholars program is named in honor of Guardian Board Member and past Board Chairman Ron Townsend, whose leadership has impacted the excellence of the Guardian Schools for over a decade.
Holy Rosary graduates Chandler Poole and Chanthony Boyd, Jr. are the 2014 awardees. They have distinguished themselves through their academic achievement, spirit of service to the school and community, and participation in athletics while serving as models for carrying out the Guardian's Guidelines for Success: respect, responsibility, effort to excel, cooperation and a positive attitude.
Chandler is continuing his education at Bishop Kenny High School; Chanthony has moved on to Episcopal High School. Both are excited about their high school opportunities and are grateful for the foundation they've received at the Guardian.