Congratulations to Our 2015 Graduates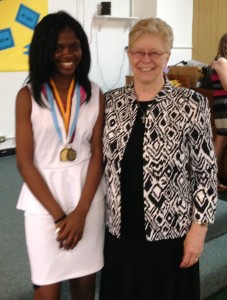 Many congratulations to the 2015 graduates of Holy Rosary and St. Pius V Catholic Schools. We would like to recognize a few graduates whose were honored for their outstanding achievements and character.

The Townsend Scholarship is awarded each year to high achieving eighth graders and provides them with increased opportunities for mentoring and continued academic achievement. The award is named in honor of Guardian Board Member and past Board Chairman Ron Townsend, whose hard work and leadership have been invaluable to the Guardian Schools for over a decade. The 2015 Townsend Scholars are St. Pius graduate Tyriq Newman and Holy Rosary graduate Amaria Simmons. Newman is continuing his education at The Bolles School and Simmons now attends Episcopal School of Jacksonville.
Amaria Simmons, pictured here with Sr. Dianne Rumschlag, was awarded the Townsend Scholarship and the Sisters of Notre Dame Distinguished Graduate Award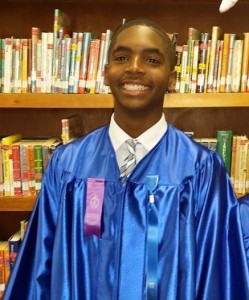 Amaria Simmons was also the 2015 recipient of the Sisters of Notre Dame Distinguished Graduate Award. This award recognizes graduates in schools affiliated with the Sisters of Notre Dame National Education Partnership, as being outstanding witnesses to Notre Dame education.

Holy Rosary graduate Destinee Howze received the Bishop John J. Snyder Peace in Christ Award. The accolade was established in 2001 as a way of honoring our now retired Bishop Snyder, who faithfully served the people of the Diocese of St. Augustine from 1979-2000. The award is given to a graduating student who demonstrates the love of God by consistently exhibiting those virtues modeled by Bishop Snyder. The selection is based upon a list of criteria that includes academic achievement, humility, community service, church involvement, compassion and concern for others. Howze plans to continue her education at Bishop Kenny High School.
2015 Townsend Scholar and St. Pius V graduate Tyriq Newman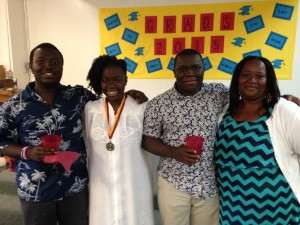 Bishop John J. Snyder Peace in Christ Award recipient Destinee Howze with her family
Holy Rosary Class of 2015:
Toni D. Austin
Irie'l Denise Fuller
Ariyana Mone't Hamilton
Destinee Samara Howze
Audriana Kelly-Grant
Willisia Jameria Major
Laura Elisa Medina
Taniyah Shanique Rouse
Amaria Adrianna Simmons
Aja S. Walker
Kezia Weston
Kamauri M. Whaley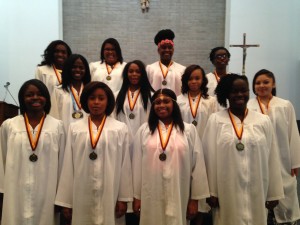 Holy Rosary Catholic School
Class of 2015
St. Pius V Class of 2015:
Hannah Bonds
Candida Brewster
Monet Cameron
Jalen Change
Kaiyah Christopher
Sydni Cloyd
Jada Cummings
Niga Daniels
Nickolas Denson
Amari Jones
Marquette Merritt
Tyriq Newman
Kanautica Petty
E'Lancia Singleton
Cody Southerland
Santannah White
Sheltiana Williams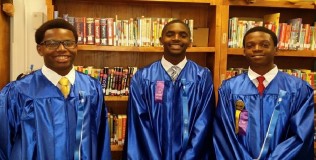 St. Pius V graduates Cody Southerland, Tyriq Newman, and Jalen Change